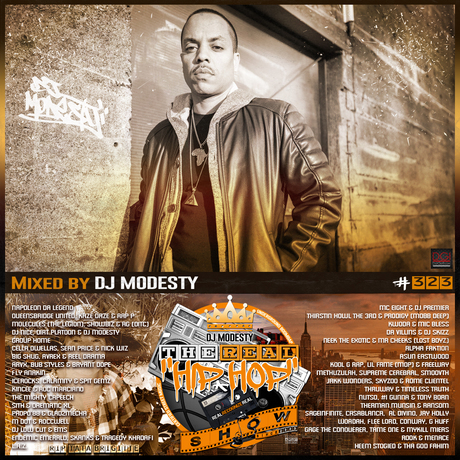 THE REAL HIP HOP SHOW N°323
Tracklist :
DJ MODESTY - THE REAL HIP HOP SHOW Intro
Napoleon Da Legend - Boom Bap Renaissance (prod by Boogie Blind)
Queens Bridge United feat Kaze Daze & Rap P - Honest
Showbiz & A.G. (DITC) - The Answer
DJ NICE feat DIRT PLATOON - 48 Bars (DJ MODESTY Remix)
Group Home - Hip Hop
Cella Dwellas feat SEAN PRICE - Cypha (Prod by NICK WIZ)
Big Shug, Avirex & Reel Drama - The Streets
ARVX feat Bub Styles & Bryant Dope - 4 Corners
Fly Anakin - Monopolize
IceRocksDxa feat Calamity, Spit Gemz & SicWitDaPen - 3 Eyes Closed (Produced by IceRocks)
Kincee feat Roc Marciano - Clusters
The Mighty Cappech - Younger Days
S.I.T.H - Methadone Music (prod by drematic xl)
Propo'88 feat GLAD2MECHA - Knowledge of Self
M Dot - Days are all the same (Roccwell Remix)
L.A.Z - Klowd 9
Endemic Emerald & Skanks Feat Tragedy Khadafi - Omnipotent
MC Eiht - Compton Zoo (Prod by DJ Premier)
Thirstin Howl The 3rd feat Prodigy (MOBB DEEP) - Skillmatic
Kwoda feat Mic Bles - Learn Your Lesson
Da Villins & DJ Skizz - Being An MC
Neek The Exotic feat Mr Cheeks - The Bottom
DJ LOW CUT CUT feat EMS - The Payback (prod by DJ Low Cut)
Alpha Faktion - Another Day Pt. 2
Asun Eastwood - Same Hustle
Molecules & Showbiz - Jungle
TAGI & Steven Beatberg feat SAGA & Sly Johnson - F**K It [D.B.B.S.M. REMIX]
Rook & Menace - Sly Stone
Gage The Conquerer feat Tame One & Mykill Miers - Underground (Remix)
Kool G Rap feat LIL FAME (MOP) & FREEWAY - Wise Guys
Aaron Romero, Vic Grimes, Ca$ablanca, Jay Holly & ShortRock - Street Cuts
Methuzulah - Stonepalms of Shangri La
Jakk Wonders feat Skyzoo & Rome Clientel - Timeless Classic
THRUWAY feat Timeless Truth - The Alliance (Prod by Labor Dept)
Supreme Cerebral feat Eloh Kush, SmooVth & DJ Eyeball - Underground Kings
Nutso, #1Gunna & Tony Born - Memorial Day Massacre Pt.1
Therman Munsin feat Ransom - Bread Winner (Prod By Roc Marciano)
SageInfinite - Still Runnin'(Prod By EyeDee)
Woadah - Talk 2 'Em
G Huff - Bars & Shoutouts
Al Divino - Federal Reserve Note$
Ca$ablanca - 45 Long Slide
Heem Stogied feat Tha God Fahim - Nightmares
Flee Lord feat Conway - Lord Talk
Thanks for Listening to this episode, to comment, Like, Subscribe & share.
This Episode is dedicated to the memory of my aunt Brigitte. R.I.P.