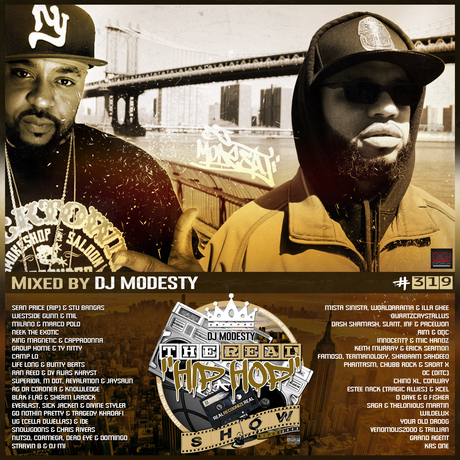 THE REAL HIP HOP SHOW N°319
Tracklist :
DJ MODESTY - THE REAL HIP HOP SHOW Intro
Sean Price - Definition Of God (Prod by Stu Bangas)
Westside Gunn - Don't Trust A Soul (7 th avenue version) (Prod by MIL)
Milano Constantine - That Feeling (prod by Marco Polo)
Neek the Exotic - True Story
King Magnetic feat Cappadonna & Dink - I'll Show You
Group Home feat Ty Nitty (Infamous Mobb) - American Pimp
Camp Lo - A Piece of the Action
L.I.F.E.Long & Bunty Beats feat Loer & Theosyn - Listening Pleasure
Ran Reed feat D.V. Alias Khryst - Invasion
Superior feat M Dot & Revalation - Earn It
AG Da Coroner feat Knowledge The Pirate - Pimp Hand
Blak Flag - Cold (Prod by SHERM LAROCK)
Everlast, Sick Jacken & Divine Styler - World's End
GQ Nothin Pretty feat Tragedy Khadafi - High Quota
U.G.(CELLA DWELLAS) - Super Gods (Prod By IDE)
Snowgoons Feat Chris Rivers - Keep Runnin
Nutso feat Cormega & Dead Eye - New Testament (prod by DOMINGO)
STARVIN B & DJ M1 - Cash Type
Mista Sinista feat Worldarama, Illa Ghee & Chordz Cordero - Life Without Fear (Remix)
Quartzcrystallus - worldwide (DJ Grazzhoppa remix)
DASH SHAMASH fear SLANT, INF & PACE WON - Capacity & Intent
Aim & QNC - How It All Got Started (Curt Cazal Remix)
Innocent? - In Limbo (Freestyle) (Prod by STAN DA MAN)
M Dot feat Jaysaun - Fugazzi
Keith MURRAY - NO EXCEPTION (Prod by ERICK SERMON
FAMOSO, TERMANOLOGY, SHABAAM SAHDEEQ, PHANTASM, CHUBB ROCK & SADAT X - Underground Railroad Nod Faktor Remix
MIC HANDZ - Dark Road
OC (DITC) - Good Man
Estee Nack & Xcel - ONYX
D Dave feat G Fisher - Bars
Saga & Thelonious Martin - Out There
WILDELUX - Fallin Skies (Prod By Wildelux)
Your Old Droog - You Can Do It! (Give Up)
Venomous2000 & Trilian feat DJ TMB - Know Things
Chino XL, Pace Won & Spider Da God - New Nigguhs (Prod By E Smitty)
Grand Agent - The Ten Black Demandments
KRS One - That Real Shit
Narcotechs - Uh Huh (Prod by Doza the Drumdealer)
Rob Viktum feat Conway & Awar - Presidential Bubble Goose
Thanks for Listening to this 319th episode of The Real Hip Hop Show.
Please continue to subscribe, share & comment. Peace !!!