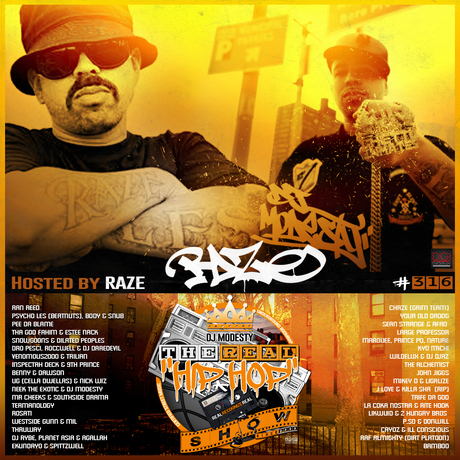 THE REAL HIP HOP SHOW N°316 (Hosted by RAZE)
Tracklist :
DJ MODESTY - THE REAL HIP HOP SHOW Intro
RAZE feat pee da blame - any1
Ran Reed - Silly Love
Tha God Fahim feat Estee Nack (Tragic Allies) - Machinery
Raze Feat Psycho Les, Body & Snub - Peace Son
Snowgoons Feat Dilated Peoples - Way Ahead
DRO PESCI feat DJ DAREDEVIL - Still Ill (Prod by ROCCWELL)
Venomous2000 & Trilian feat 9th Prince, Inspectah Deck, NLZ, & DJ TMB - Make Ya Speakers Pop
RAZE - G's Up Ghetto INMATE
Benny - 762
U.G. (CELLA DWELLAS) - Mind Right (Nick Wiz Remix)
Neek the Exotic feat Mr Cheeks & Southside Drama - We On the Come Up (Prod by DJ MODESTY)
Raze Feat Termanology - Weed & Henny
Rosati - The Main Event
Westside Gunn - Don't Trust A Soul (Prod by MIL)
Dawson feat Benny - Float
Raze - All in the Eyes
Thruway - Elbow (Prod by Spk)
DJ Rybe feat Planet Asia & Agallah - Power Bars
Ekundayo & Spittzwell - Life Or Death
RAZE - livin it (Prod by CHAZE - GRIM TEAM)
Your Old Droog - G.K.A.C.
Sean Strange feat A-F-R-O (a.k.a. All Flows Reach Out) - Light It Up (prod by LARGE PROFESSOR)
Marquee feat Nature, Prince Po & Ms. Kennedy - Surviving in the Desert (Prod by Kyo Itachi)
Raze - Fall back (PROD BY ALCHEMIST)
Wildelux - Living Gem (Cuts by DJ DJaz)
John Jigg$ - Raw 2:58:14 MIKEY D - Living Proof
Raze Feat J Love, Killa Sha, Trife Da God & Large Professor - Nighthawkz
La Coka Nostra Feat Rite Hook - Waging War
Cayoz feat Ill Conscious, Raf Almighty & Bamboo - Valley of The Kings
LiKWUiD & 2 Hungry Bros feat P.SO & Donwill - Hold That (Faybels)
Raze - Share This
Raze - Bosses (Prod by ALCHEMIST)
Thanks for Listening, for your Comments & For Sharing this link
ENJOY !!!