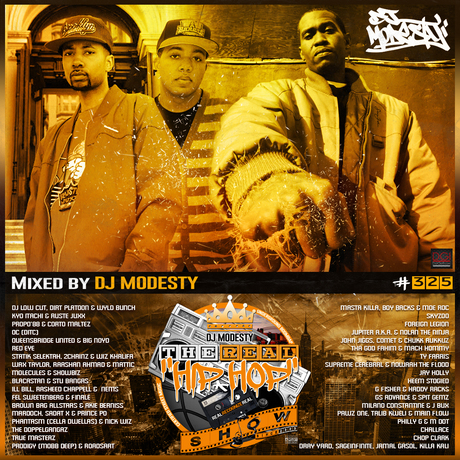 THE REAL HIP HOP SHOW N°325
Tracklist :
DJ MODESTY - THE REAL HIP HOP SHOW Intro
DJ Low Cut feat Dirt Platoon & Wyld Bunch - Other S**t
KYO ITACHI feat RUSTE JUXX - Samurai Sushi
Propo'88 feat CORTO MALTEZ - Check
O.C.(DITC) - A New Dawn
Queens Bridge United feat Big Noyd - 9MM
Red Eye - 24 Barbarian Pt. 10 (Prod by RUFF)
Statik Selektah feat 2Chainz & Wiz Khalifa - Man Of The Hour
Wax Tailor feat Raashan Ahmad & Mattic - The Chase (Headnodic Remix)
Molecules & Showbiz - Methadone Rap
BLACASTAN & STU BANGAS Feat ILL BILL, Rasheed Chappell, Nems - Delete Remix
Fel Sweetenberg & Finale - Tearz
Brown Bag AllStars Feat Akie Bermiss - Beerz (Prod By Bagir, Audible Doctor & J57)
Mardoch feat Sadat X & Prince Po - Raw
Phantasm (Cella Dwellas) - Against the Grain (prod by NICK WIZ)
The Doppelgangaz - Boston Beard
True Masterz - Every Knee
Prodigy - Keep It Thoro (RoadsArt Remix)
Masta Killa feat Boy Backs & Moe Roc - OG's Told Me
Skyzoo - Finesse Everything
Foreign Legion - Hip Hop D-List
Jupiter A.K.A.feat Nolan The Ninja - Lu$t 84
John Jiggs Feat Comet & Chuckk Rukkuz - Who want It
Tha God Fahim Feat Mach Hommy - Bell Ringer (Prod By Eyedee)
Ty Farris - Prayer For The Competition
Supreme Cerebral & Nowaah The Flood - Hard Knocks
JAY HOLLY - These Streets
Heem Stogied - 24 Hours
G Fisher feat Haddy Racks - OG's
G.S. Advance feat Spit Gemz - La Louche
Milano Constantine feat J Bux - Quantanamo Bay
Pawz One feat Talib Kweli & Main Flow - In Vino Veritas
Philly G feat M Dot - From The Bottom To The Top
Challace - My 1st
Chop Clark - 40 Acres
Wyld Bunch - Bozo City (Prod by H LLOYD)
DRAY YARD feat SAGEINFINITE, JAMAL GASOL, HEEM STOGIED & KILLA KALI - stranger things
Thanks for Listening, Download, Sharing the links, Comments...
PEACE !!!