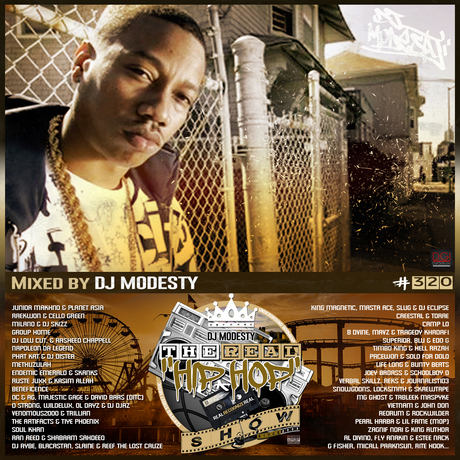 THE REAL HIP HOP SHOW N°320
Tracklist :
DJ MODESTY - THE REAL HIP HOP SHOW Intro
Junior Makhno feat Planet Asia - Gunman
Raekwon feat CeeLo Green - Marvin
Milano Constantine - Barbaric (Prod by DJ SKIZZ)
Group Home - Trust Me Son
DJ Low Cut feat Rasheed Chappell & Soul The American Dream - Deja Vu
Phat Kat & DJ Dister - Revolt For Change
Methuzulah - Family Tree
Endemic Emerald & Skanks Feat Ruste Juxx & Kasim Allah - Prison riot
Beneficence feat AG (DITC) - Smooth Hardcore (Prod by JAZZ SPASTICS)
D Strong - Keep On Going
WILDELUX - Subterranean Raw (Prod by OL'DAYZ, Cuts by DJ DJAZ)
Venomous2000 & Trilian feat The Artifacts, Tiye Phoenix, & DJ Trickalome - Hot Damn
Soul Khan - Vandal Savage
Ran Reed feat Shabaam Sahdeeq - The Innovator
Kasim Allah - Fight Back
Dj Rybe feat Blacastan, Ruste Juxx, Burke The Jurke, Slaine, Reef the Lost Cauze - Wolf Ticket Purchase
Creestal feat Torae - Hardknock
Camp Lo - Say Word
B Dvine feat Mavz & Tragedy Khadafi - It Really Was (prod by Stylez Tha Shadow Figure)
Superior feat Blu & Edo G - Make The World Go
Timbo King & Hell Razah - Immaculate Spittin'
Pacewon & Solo For Dolo - NO CHILL
L.I.F.E.Long & Bunty Beats - Outta Tha Frame
King Magnetic feat Masta Ace, Slug & DJ Eclipse - Alone
Joey Bada$$ feat ScHoolboy Q - ROCKABYE BABY
AG (DITC) - Megatron Bronx
OC (DITC) feat Majestic Gage & David Bars - In The Paint
VERBAL SKILLZ feat REKS, Micall Parknsun & journalist103 - N16 6AH (Prod by Apollo Brown)
Zagnif Nori & King Author - Head Hunting (Prod by PLAGUE MD)
Pearl Harba Feat Lil Fame (MOP) - Fugitive From Love
DJ Low Cut feat Napoleon Da Legend & Paloma Pradal - Ambition Of The Shallows
G Fisher - Dragonslair
AL DIVINO feat Fly Anakin & Estee Nack - Kapers (prod by al divino)
Snowgoons Feat Locksmith, Skrewtape & Rite Hook - Problems
MG GHOST feat TABLEEK MASPYKE - Thats whats up
vietnam feat Manny john Don - visionaries
REDRUM - Guilty as charged
Much Thanks for your support !!!