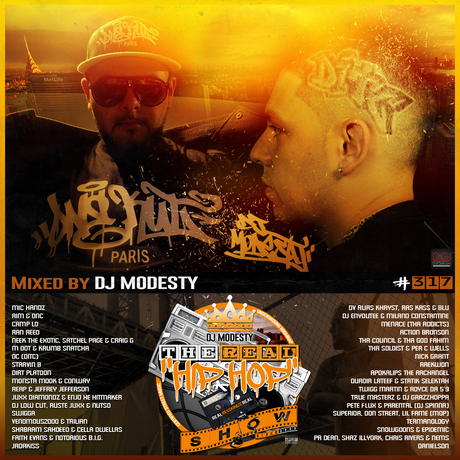 THE REAL HIP HOP SHOW N°317
Tracklist :
DJ MODESTY - THE REAL HIP HOP SHOW Intro
MIC HANDZ - Homegrown
Aim & QNC - Lyrical Expert
Camp Lo - CAMP LO (Bust Ya Down)
Ran Reed - Walking Testimony
Neek the Exotic feat Craig G & Satchel Page - The Real NYC
M Dot feat Krumb Snatcha - Nomads
Swigga - Vroom
OC (DITC) - Serious
Starvin B - The Flame Thrower (Prod by Plague MD)
Dirt Platoon - How Many MCs
Monsta Mook Feat Conway - In The Streets [ Produced By J Demers]
Reap feat Jeffrey Jefferson - The Beat
Juxx Diamondz feat Enjo The Hitmaker - Long Nights (Prod by Juxx Diamondz)
DJ LOW CUT feat Ruste Juxx & Nutso - Lyrikal Landslide
Venomous2000 & Trilian feat Shabaam Sahdeeq & Cella Dwellas - Products of Environment
Faith Evans & The Notorious B.I.G. feat Jadakiss - NYC (Prod by DJ PREMIER)
DV Alias Khryst Feat Ras Kass & Blu - Street's Don't Love (Prod by Science)
DJ Enyoutee feat Milano Constantine - Flying Saucer
MONSTA MOOK - Brown Paper Bag
Menace (Of Tha Addicts) - Another Viktum
Five Steez, The Sickest Drama (TSD), Inztinkz, Tha God Fahim & Nomad Carlos - Valhalla Doctrine
Action Bronson - Dealer Plates (Prod By Harry Fraud)
Tha Soloist & Per C Wells - Howl
Nick Grant - Drug Lord Couture
Apokalips The Archangel - Another Side Of Me
Raekwon - This Is What It Comes Too
Quadir Lateef & Statik selektah - the Exorcism
Twigg Martin feat Royce Da 5'9 - Talk Is Cheap
True Masterz - Mega The Martian (Cuts by DJ Grazzhoppa)
Pete Flux & Parental - What They Need (DJ Spinna Remix)
Superior feat Don Streat, Termanology, Lil Fame & DJ Grazzhoppa - Rapper Shot
DanielSon - Court Vision (prod by selrok)
Snowgoons Feat Epidemic - Tight Team
PR Dean feat Dax Mpire, Shaz Illyork, Blank Face, Chris Rivers, Babalu Machete & Nems - Wild Germanz
Shabaam Sahdeeq feat Milano Constantine & Parakhan - street code
Much Thanks for listening, Share & Support THE REAL HIP HOP SHOW !!!